I don't know where the hell I would be today if it wasn't for my drinkin' buddies pulling my ass out of the fire, hiding my keys, driving me home or just being my wing man when duty calls. Actually, I know
exactly
where I would be:
Behind bars (not the good kind) or pushin' daiseys.
One in particular, my Bro from another Mo, is my all time favorite. Z has gotten me drunk, high, laid & twisted more times than I should really reveal. On top of that, I've learned more jammin' music with this guy in a short period of time than I have in my 20 years of playin'. Killer dude from inside out.
What a bitchen weekend! Me and Z spent Friday and Saturday nights recording in the studio and dialed it in. We're starting to see some progress and that gets me fired upp. We're actually working on single songs at a time for once in our drunkin' jammin' careers. The usual is getting hammered and free-style jammin' switching off between me on the drums for half a set and then Z on the kit for the other half. We nailed it down pretty fuckin' killer on Saturday. We laid down a third track with Z on the bass and that glued the tune together perfectly. Shortly after the third track I was grillin' burgers and walked into the studio to see this shit! BWAAAHAHAHAHHA! That picture is going in the liner notes. That is a guarantee...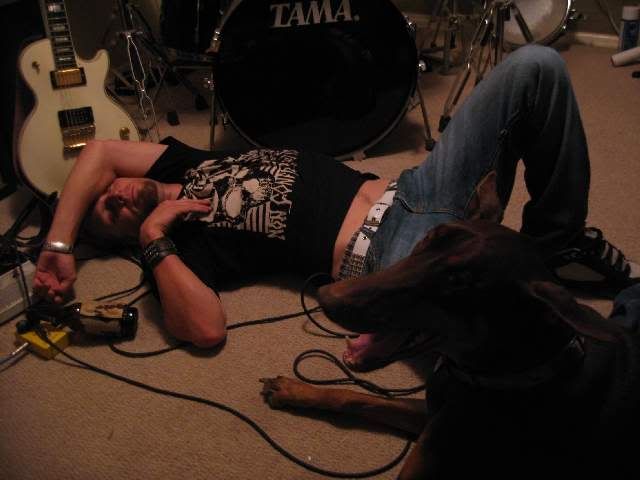 We woke up drunk Sunday morning and made the hour and a half mission back to Vail Lake. This was the first time we noticed the humorous sign so I had to snap a pic. If "
the man
" only knew...
I was gonna give Z some shit for being on the phone at the lake until I realized he was talking to his SeaBee wife Telle. She'll be back home in late October and my best drinkin' buddy is stoked! I'm stoked for him! I'm stoked for her to get back to the US after putting in her time in that shithole known as the Middle East. I'm sure it's gonna cut down on our fishin' time, but it's good that she'll be home. Come home safe Telle!
Z-man, I was gonna make a Motivational Poster out of this and fuck with you about being on the phone when you're supposed to be fishin'. You're lucky that was your wife and not some hippy asshole in O.B. trying to pawn a flange pedal that he traded for a hit, or motivational posters would be posted all over this place! BWAHAHHAHAHAHAH!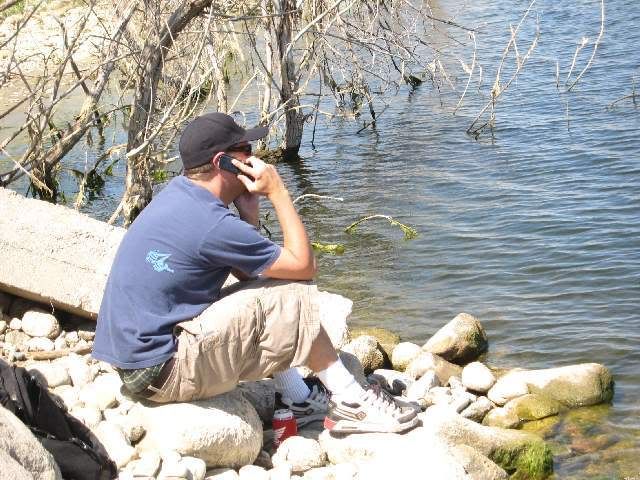 I landed the first fish, but that was it for me. No mas! I prolly lost more swim baits this trip than any other, and all I got was one fugger! Z was nailin bass the entire time! If my drunken memory serves me correctly, his score was nine on the day.
Bastard!
I
did
catch a really good buzz though.
First fish:
It was pretty slow until the shadows started forming next to the structures, and then Z went ape shit and caught this lunker: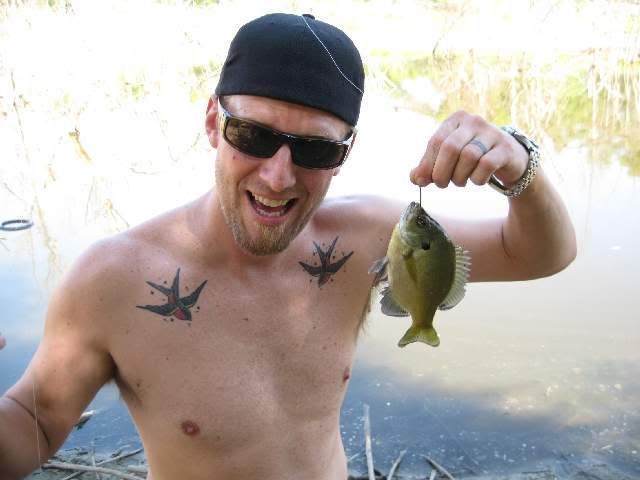 I was talking all kinds of shit on that guppy and then I had to STFU when he landed this badass bass: I know dude, I'll STFU right about now...
I know we go to Vail because the fishin's good, but I think there might be an alternate motive in this mix somewhere? Oh yeah, that would be Texas Lil's in Temecula, which brings me back to where I started.
Drinkin' buddies are everywhere, but there is only
one
drinkin' Bro. We hit up T.L.'s on our way back south for a few Texas Tea's. Holy! Shit! Those things are strong! I have some major tolerance, but after three of those, I was in another world. They taste so damn good, and the wimmin flirtin'?...Danger Zone. The girls at this place are fun and they actually have personalities that don't make you wanna puke. In California? Who would've thunk it?
*BLACKOUT MODE*
Apparently I was flirtin' with our waitress and asked her for her number. The dumbass that I am didn't put her in my phone right off the bat, and by the time I got to work this morning forgot all about what went down at T.L.'s last night. Lucky for me I have a damn good drinkin'
bro
who doesn't black out and logged her number into his phone for me. Afterall, he knew I would live up to my dumbassery as usual.
It's prolly a phoney number but what the hell? It was a kickass weekend, and I have my drinkin'-buddy-Bro-from-another-Mo to thank for it! Love ya Z! You rule dude!
Sometimes life is phuckin' phun! Phuggit dude, let's go phishin'...