Nicholas turned 10 today. What a cool little dude! This has to be the most respectful kid I have ever had the pleasure of knowing. He always says please and thank you, he's a little framing helper, and he's a great kid all around. I kinda see myself in him when he's moshing around like little kids do, except I got into a lot more trouble as a booger-eater when I was his age. Damn, his Mom needs to talk to my Mom to know just how lucky she is. What a killer little dude!
I've always wanted to be a
Big Brother
and I think Nicholas was put into my life for just that reason. GOD works in mysterious ways indeed! Nicholas keeps me from getting out of control, 'cause I wanna practice what I preach and be a good influence and help him be the best little conservative he can possibly be. Or should I say the best WHITE little conservative he can possibly be? I guess that would make me some kind of "racist" right? Eh, fuck it. Call me what you will, hypocritical hypocrate!
***Did anyone notice the "african-american/hispanic-american" links?***
WTF??? I thought race didn't have anything to do with it? I guess
blacks
only want
black
big brothers and
hispanics
only want
hispanic
big brothers. Racism is a two way street, and you
hypocritical
fucks are hoggin' both lanes! I'm okay with that until you assholes put a label on me like you do.
FUCK. YOU.
Back to Nicholas...
Seeing this kid the way he is gives me hope that the future generations aren't going to be
entirely
fucked... More conservatives need to have
more
children, and
more libtards
need to have
less
. It's the only way we'll ever be saved, folks! Get humpin' already, if you can afford 'em.
Fuck like rabbits until we equalize and overcome! This WHITE kid is going to grow up knowing all about the hypocrital liberal assholes and how they distort facts. He's gonna grow up proud of his Country. He's gonna grow up while libs shut down. He's gonna grow up a proud American! He's the next generation that will save us from liberal idiocy.
Happy Birthday Nicholas!!! At the next .22 pistol competition, I'm either gonna take that twenty back, or I'm gonna owe you another. Prolly the latter!
I got my first firearm I could call my own when I was around his age. It was a
Marlin Model 60
. I don't know how many birds I took out with that thing, but I think the karma has finally caught up with me. If it hasn't, I am seriously fucked, cause I've had more than a few years of karma-retribution. It's gotta end sometime, right?
Here I go again barkin about myself. This was a killer night for Nicholas, as it should've been! His energy was more than enough for us "old" farts before he even cracked his first present: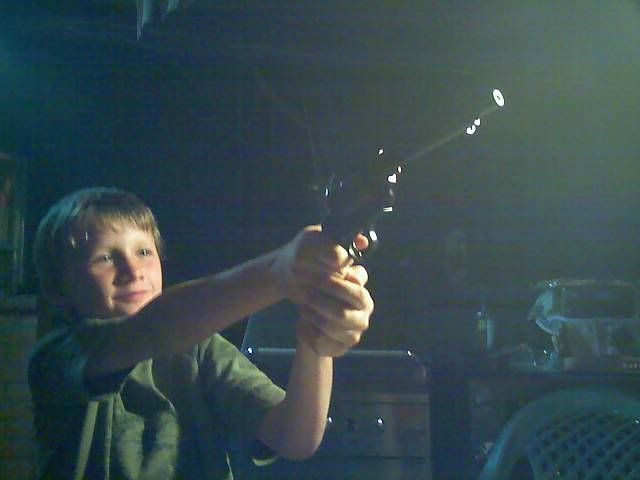 Check out that shit-eatin' grin on his face. The flashbacks of decades ago were rampant. I smiled a lot tonight. What a killer little dude.
Can I borrow twenty bucks?