Now if only my right ear would pop, I'd be in good shape. Altitude and me don't get along at all. I fucking hate flying!
When we flew into OMA, I wanted to take a pic of me flippin the bird to TDHO, but after a layover @ DEN and three double Crown n' Cokes later I didn't think of it until we were already on the ground. The sentiment was still there TDHO, I promise...
By the time we were in Lincoln, we had already missed the first service. My Uncle Gary picked us up from our drop-off point and took us to the after "service", which was a bunch of 'family' (most of who I didn't even know) sittin' around the cooler and talking about good times with Gramps. It was a reality check for me. I got to hang out and get drunk with my cousins who I hadn't seen since we were little kids. We got hammered, shot some pool and all reminisced about the fond memories we all had with Grandpa. I think that really helped me cope with the situation more than anything else. It was good to laugh about the good times rather than dwell on the sorrow.
Friday morning we woke up (way too fucking early) and shot to the cemetery to carry Grandpa's casket. I held up pretty good until the preacher dude started talking about Grandpa's selflessness throughout his life, and then seeing Grandma, Mom and my aunt's and uncles wiping tears. BAM! Like a ton of bricks, it sunk in and my eyes were like Niagara Falls. I held it together, but I really should've let it go. I guess I'll have to do that when I see him on the other side...
Damn, I don't even know where I'm going with this. My eyes are watering as I type. So goes the cycle of life, huh?
Overall it was a great time under shitty circumstances. It was really great to grieve with family I hadn't seen in two decades and/or had never met. There were more smiles than tears. Definitely something to remember for the rest of my existence!
It was hard saying goodbye to Grandma. I'll see her next year, but I could see in her eyes that she didn't think she would see me again. That was really rough. I hope to be going back out there in March for her 90th! Love you Grandma!
I woke up today with a pounding head ache! I don't know if it's from Thursday night into Friday morning drinking, or if it's from Friday night into Saturday morning drinking. Well, I think I just answered my own question even though it wasn't really a question.
We flew out of LNK this morning and got stuck in DEN for an hour and a half. My head didn't stop thumpin' until I got to the "Smoking Lounge" and got to spend some money. Damn, those Crown n' Cokes were $13 but they sure as hell got me out of my funk in a hurry! I had to take a pic. Yeah, I know it's blurry, but that was my airport vision at the time. Maybe I don't hate to fly after all...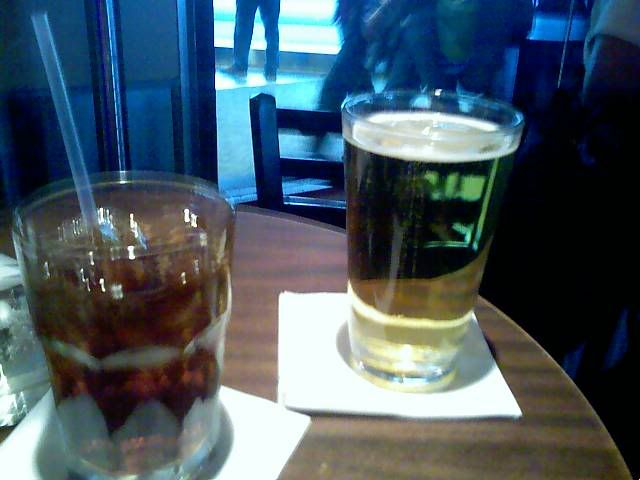 It's definately good to be home, but I already miss everyone. Maybe I'll crack a new one, take a shower and hit the fuckin' sheets!
After I crank this one: