Thursday morning we woke up and had one of the best breakfast's I can remember having in a long time. Eggs, bacon, ham, flapjacks, hashbrowns & some killer assortment of breads and toasts that Pops bought at the local bakery on the way up. I really should've taken a picture of the feast, but I was still groggy from the first night's drunken late-night antics.
The only problem having breakfast with this crew is getting them off their asses and on the road. Not that I'm bitchin' about it. This is a great group of dudes! It's like I'm hangin' out with a shitload of uncles, a couple cousins and Grandpa Ray. As to be expected, this a disfuntional family of drunken anglers. It's great!
After everyone was done sloppin' up breakfast, it was time to hit the road up
Tioga Pass
and fish Saddlebag.
Holy! Shit! Times like these remind me why I love the heat of the desert. It was 41 degrees and the wind was
whippin'!
. I was ready to head back to the truck, crack one and fire one down when Dad suggested we head back down the mountain and fish where it's comfortable. Good call.
Time to head back down to warm weather and fish
Lee Vining
. This is on the way back down Tioga to the 395.
Lee Vining was a beautiful stream. I fished this spot for a good 25 minutes before it hit me...how 'bout a pinner?
Did someone say pinner?
A few casts later, I caught my first fish of the trip. This little bastard fought good too! He even let me get my nightcrawler back. Thanks buddy...
This is Dad in true form! His
Cloud Nine
so to speak... I've never seen this man as happy as he is doing what he's doing here: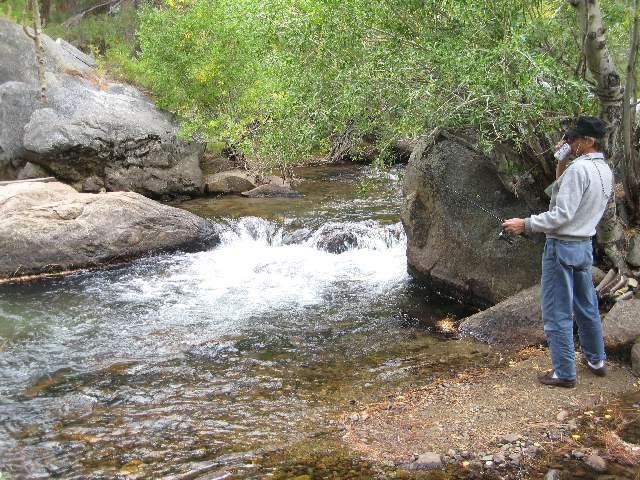 Pinner anyone?