Well shit! I guess the fun had to end some time. What a blast! I don't think I've had as much fun with Dad in at least a decade. I guess I've learned to appreciate the time we spend together more now days.
We hit the road from San Diego @ 3:am Wednesday morning. Nobody on the road, and I was behind the wheel with the hammer down. Dad usually drives only five mph over the speed limit, and that wasn't gonna cut it this time! I was itching to get there in a hurry. When I'm pumped to get somewhere like this destination, I'm a good 15 to 20 mph over, so we decided that I would drive all of I-15 until we hit the top of the Cajon Pass and then he would drive the rest of the way. After the Cajon Pass and into Victorville (I mean shitville) and on the 395 the CHP and local Sheriff's in these small towns have a hard-on for giving tickets for even 5 mph over. Not to mention that there are only a few sections along the two-lane highway until it opens up. Assholes!
I remember the first time that I drove the 395 myself without Dad in the truck. There was an Angel on our shoulder's that night for sure. Me and a drinkin' buddy were meeting my dad and his buddies at
Pleasant Valley
for a few days of camping and fishing. That is, back when those old farts used to camp…
My Dad warned me about driving the speed limit in certain areas, but we were nineteen year old punks and said, "yeah, whatever". It was hammer-down the entire way there without a fucking care in the world. We just wanted to get there!
Yesterday!
While I was grabbing us a few beers, my co-pilot was twistin' fat ones. We were haulin' ass through
Lone Pine
, onto
Independence
, onto
Big Pine
and eventually into
Bishop
, the whole time chuckin' 40oz bottles out the window and tokin' fatties! I seriously don't know how we made it there without bail…
Anyways, this trip was a big one for me, and I'm sure for my dad too. Before we crashed out Tuesday night I could tell he was itchin to get there. Most of our group had already been there for ten days and they were feeding Dad the fish reports daily via emails and phone calls. As anglers, we know the fish reports are always inflated, but that doesn't make us wanna get there any slower. I don't bullshit when it comes to fish stories. Either I catch 'em or I don't, I'm not gonna bullshit you. The proof is in the puddin'!
Wednesday's report:
Dad and I met the group at
Culvers
and hooked up with night crawlers, crickets,
PowerBait
and ammo. The ammo is only because of the bears cruisin' around up there. At least that's what Dad says. He asked me if I was gonna carry and I told him I was, but he was pissed that I only had a magazine loaded. Needless to say I bought a box of .45 to make Dad happy. I only carry on those lengthy road trips in case we break down or get a flat in the middle of tweekerville. Bears are the last thing on my mind when we're in fucking Victorville, Adlelanto or any other wetback/meth city this side of Death Valley. Shit, I would prefer getting mawled by a bear to having to deal with tweeker assholes!
After everyone caught up and pounded a few beers, we were on the road just outside of Bishop to Intake Two. Damn, it was so great being back with this group again. This is a great group of dudes, lemme' tell you. Extended family doesn't even describe it. I have a lot of pics of the group, but I asked them before hand if they minded getting posted on the net and a few of them weren't too enthusiastic about it. Those were omitted by the way...
I've fished this spot only once before and we nailed 'em last time! This time I got skunked. My numbers aren't inflated. My numbers the first day are really easy… ZERO!
This is
Intake Two
.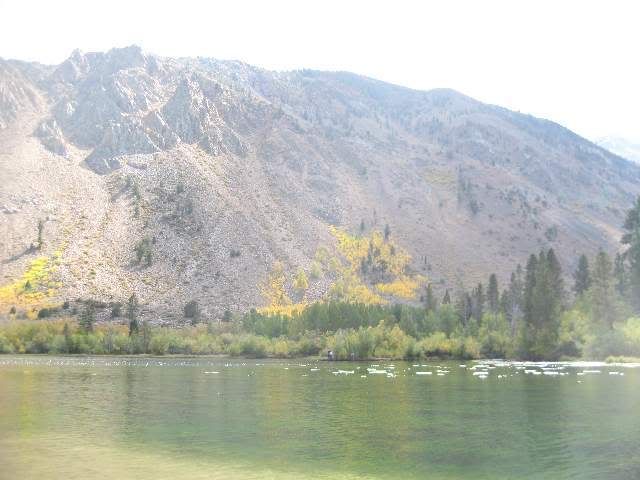 These are the drunken die-hards on the opposite side of the lake: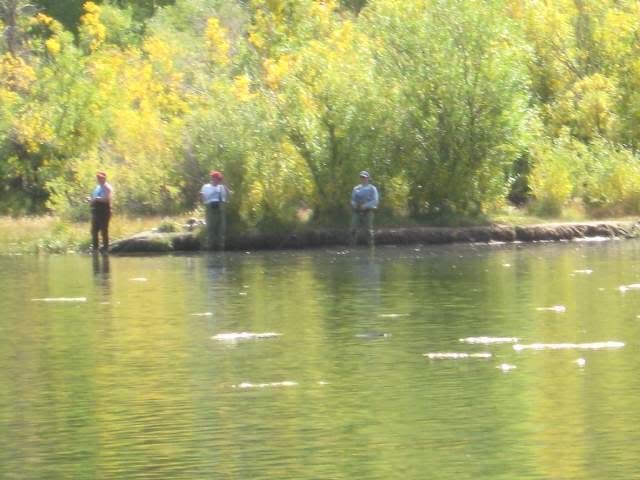 This is Ray, one of the best guys out of the group. I asked him about posting a pic of him, and he told me in detail how much he didn't really give a fuck. If I remember correctly, he's 87. Ray is the glue that has held all these boys together for all these years.
I love Ray. He's the most humble dude of the bunch and he's the most honest man I've ever met in my life. He was concerned about my Pops and his current situation and Ray sat Dad and I down and laid it out. He doesn't drink anymore, but he smokes like a chimney! Did I mention that he's 87?
Oh yeah, if we hit a spot and no one is catching fish, Ray is always catching a fish. Everytime.
Like this time: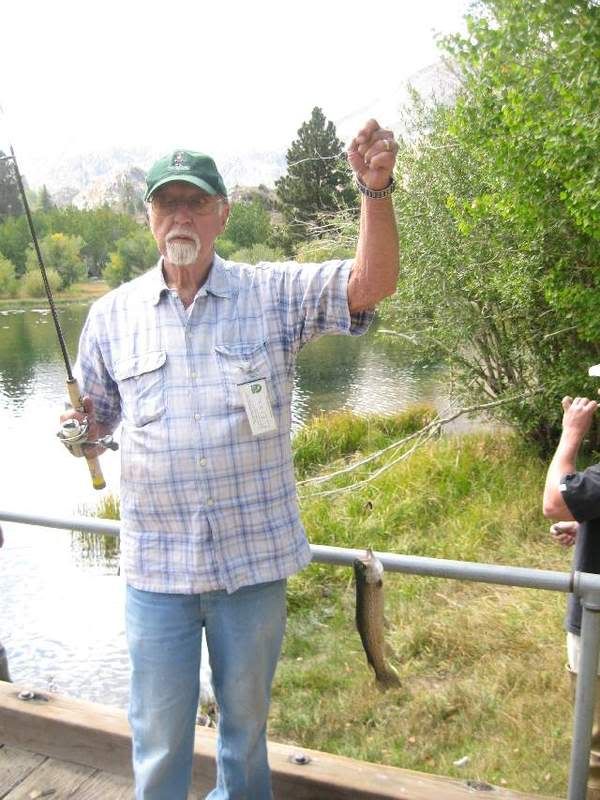 Dave had the braggin' rights after this one though: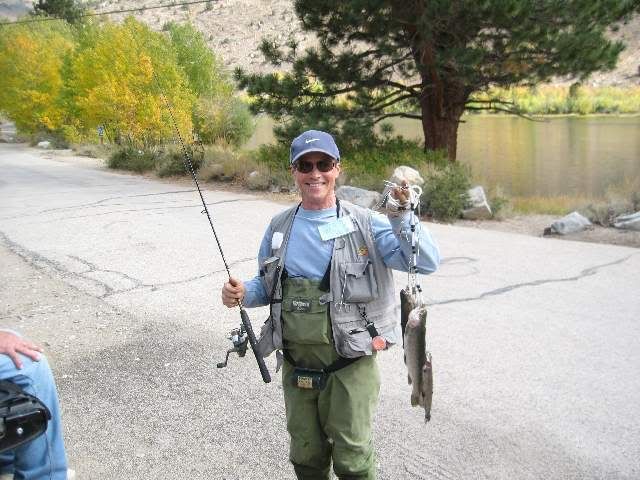 Fuckin' A! As usual this trip was too short, but I'm gonna live the high for the next few days until next time. Naturally high as a fucking' kite! Thursday was even better! Pics to come. I'm gonna ride this one out for a while... Good times!
Crapola! I don't know how but I almost forgot about this one. This the the first night after gettin' drunk with the boys headin' up to the cabin after a good day of comradery. My dad isn't too much into Sabbath, but I wanted to crank
this
the moment I saw it!