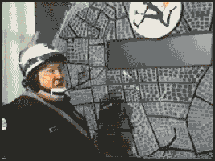 Damnnnn!! Not even 48 hours since niggaz went underground in Harlem and y'all stupid motha fuckaz at it again! What the fuck is it with niggers, fast food, and violence? Most of the videos I've posted in this series have occurred at fast food joints. Must be sumpin in da grease. Maybe it's because the food is so cheap. Actually, it's still cheaper to just go to the grocery store with your food stamps. But y'all be too lazy to fuckin' cook. And that's too bad because some of the best American cooking has come from black culture. Back when you had a culture to be proud of. Now y'all just a bunch of fuckin' niggers. Beatin' on yo hos.
Here's a really bad nigga joke...
Why do niggers walk the way they do?
~ Because they spent the first nine months of their lives dodging a coat hanger.